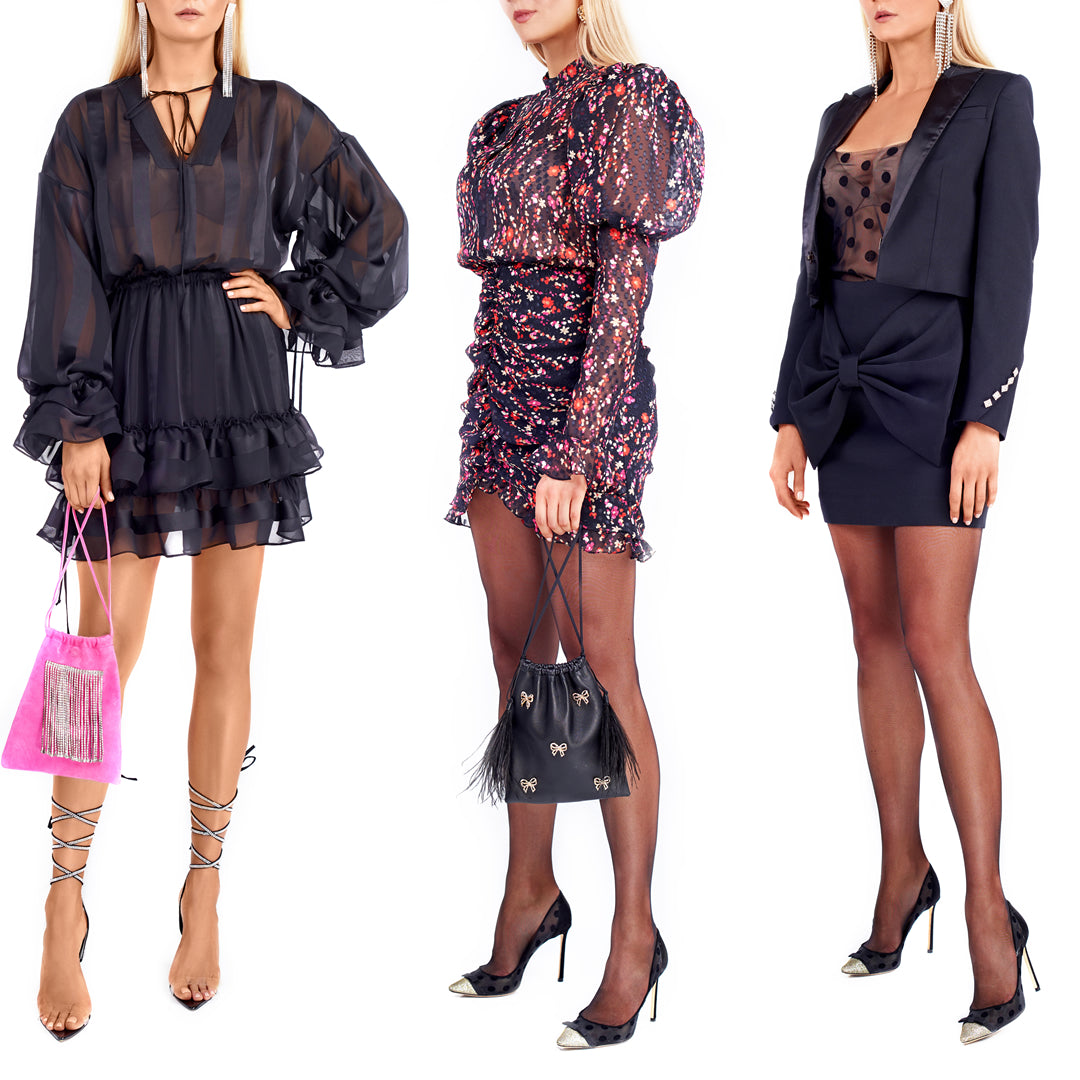 The female half of humanity longs for this most of all, otherwise where else can you be truly cheerful, fervent, vibrant and not think about anything. Designers of all fashionable capitals seemed to have conspired and, one after another, they produce elegant dresses.
Moreover, the festive dresses in their performance are daring mini in dizzying shades and unpredictable design. We have selected some of the most relevant styles, without which in 2020 can not do:
A bright red dress with a chain inlaid with stones is not burdened with unnecessary details, it has absolutely everything you need. The main accent in the form of a chain, fitted fit and rich scarlet color are the main components of an ideal party dress.

Lush styling with Hollywood locks, feminine pumps, and a small handbag will complement the party outfit. In this way, you will not be equal. What evening to shine and in which company you choose. In this outfit, the whole world will be at your feet!


A predatory print is another trend that has not been losing ground for any season in a row. Zebra baloony dress combines several current party trends: a bare shoulder, mini length, and zebra print.

Thanks to one magnificent sleeve, women's shoulders are made even more fragile, and the back - graceful. An unusual combination of colors and print: the deep green and black in the interpretation of the print of a zebra look nontrivial and stylish.

In the cold season, you can pick up high boots made of patent leather or suede with beveled heels, and feminine sandals on thin membranes in spring and summer.

The design of the sleeve of the outfit allows him not to budge with any body movements, so you can dance in it all night long without thinking about anything!


A pink after dark dress in the style of Barbie is the dream of every girl who, with age, turns all her wishes into reality. What is the catchy outlet of the popular it-girl Haley Bieber wearing a pink chewing gum Alexander Wang dress?

After this triumph, the boom in Barbie's clothes became even larger. For dream dolls, stylists from around the world, designers sew their clothes and no one even thinks of calling Barbie - exclusively children's fun.

We embody our dreams in a more elegant manner, wearing a pink cocktail baloony dress made for your outfit. A bare shoulder and the absence of unnecessary details, a fitted perfect cut testify to the good taste of the owner of the outfit, and the pink color is her whim, which, incidentally, is very to her face.


Another print that does not give up positions in the cage. Actual in winter and summer, the cell is increasingly found on designer dresses, suits, puffy mini skirts, and shirts.

A feminine short party dress with check ruffles is the choice of a real coquette. The assemblies, rims, bow and bright colors of the dress are tuned for a playful way, and the emphasis on the waist and neckline on the neckline beautifully frames the female figure.

In autumn and warm winter, such an a

symmetrical 

dress will look advantageous with sand suede over the knee boots, and in summer with sandals of an interesting design, inlaid with stones or with laconic buckles.
What party outfit will characterize your wardrobe this season, you choose, but it must certainly be bright and quite bold. If there is still time to search and select the necessary dress for evening outfits, then the time spent on improving the figure is already underway. So, run to the hall and meet at a party!