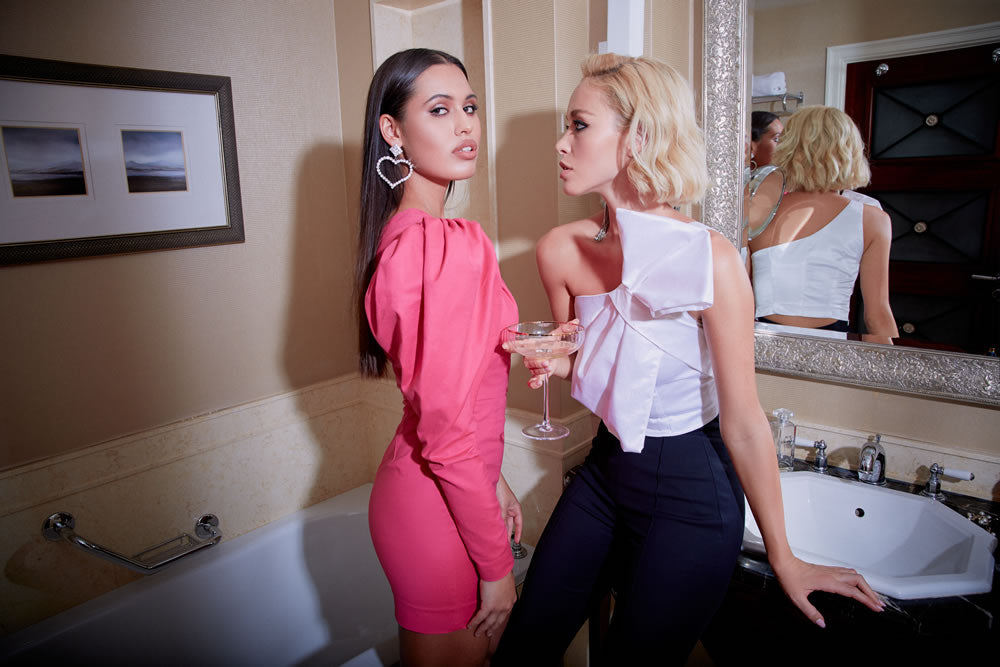 Cropped, fitted tops with embroidery, with rhinestones, flounces, frills, asymmetrical, on one shoulder and with flowing fabric tops settled in the wardrobe of many girls who follow trends. 
Jeans in such a case should be as simple and by no means, the case is not skinny. The time for tight-fitting jeans has almost passed, so we stop on a straight cut, high waist, oversize style and even forgotten bananas.  
We selected several options for the exit, where the top and jeans complement each other, and the design of the dress speaks of impeccable taste.
1. Unbelievable sensation recently made creations of the brand Orseund Iris. Tops, bare shoulders, emphasizing the chest, with a minimum of space for imagination are more popular than ever. 
Modern it-girls combine them with oversize jeans, redrawn by Re / Done or Australian classic Ksubi. A satin top with an ajar neckline and flounce sleeves will suit simple jeans, New Bottega Veneta style mules and, for example, a baguette bag. 
Choose a cozy cafe, a good conversationalist, a part-time photographer, and you will be guaranteed success on Instagram. Perhaps soon it will be impossible to count huskies, but recognition of the powers that be still flatters self-esteem.             
2. Shuttlecocks, ruffling, as practice shows in recent years, does not happen much. And if the going-out top is still always up-to-date with the polka dot print, then it has no equal. 
Brand by Magda Butrym created a top for the party and got into the top ten. Long sleeves and a shortened length only give it additional charm. For such a top full of details, it is best to choose jeans of light colors with a high waist. It can be jeans with stitching in the style of Isabel Marant or cropped J Brand. Shoes and accessories fit the tone, and the whole emphasis should be placed on the top.             
3. Mark Khaite boasts many a must-have, not only a woolen bra, which recently demonstrated in the street accidentally actress Katie Holmes. What is a brand blouse with flounce sleeves, presented in white, black and transparent? 
The most concise version of all kinds of after dark tops on the way goes well with Jean Atelier jeans. The Los Angeles brand, which creates the most incredible models of jeans, skirts, dresses, denim corsets, has forever won the hearts of many fans. 
Blue lapel brand jeans are a true work of art that will definitely fit Khaite's top. The outfit is worthy of not only a million likes but also a large number of looks at the presentation of some award for the most fashionable image.             
4. Bare shoulders, a minimum of fabric and a maximum of velvety skin - with these words you can describe almost all of the latest creations of designers. 
Different party tops with bare shoulders are especially good at the Areyouami brand, led by its designer, the famous blogger Rumi Neely. However, such tops are more suitable for everyday wear, but for the release of the light, you need a top Reem Acra from black satin. 
The design emphasizes the chest, back, and neck. In principle, nothing more is needed for happiness. Unless picking up high-waisted Agolde jeans and slightly show abdominal abs cubes. 
Long legs in jeans will be even longer thanks to stiletto sandals, and the figure will look more feminine with a miniature bag or clutch. The whole world is at your feet, or at least those people who can see you in this outfit.             
Beautiful tops are an investment for years. Their design can be so interesting that the younger generation will like it after some time. The main thing is to remember these triumphant moments when one top made your evening and you were simply charming in it!