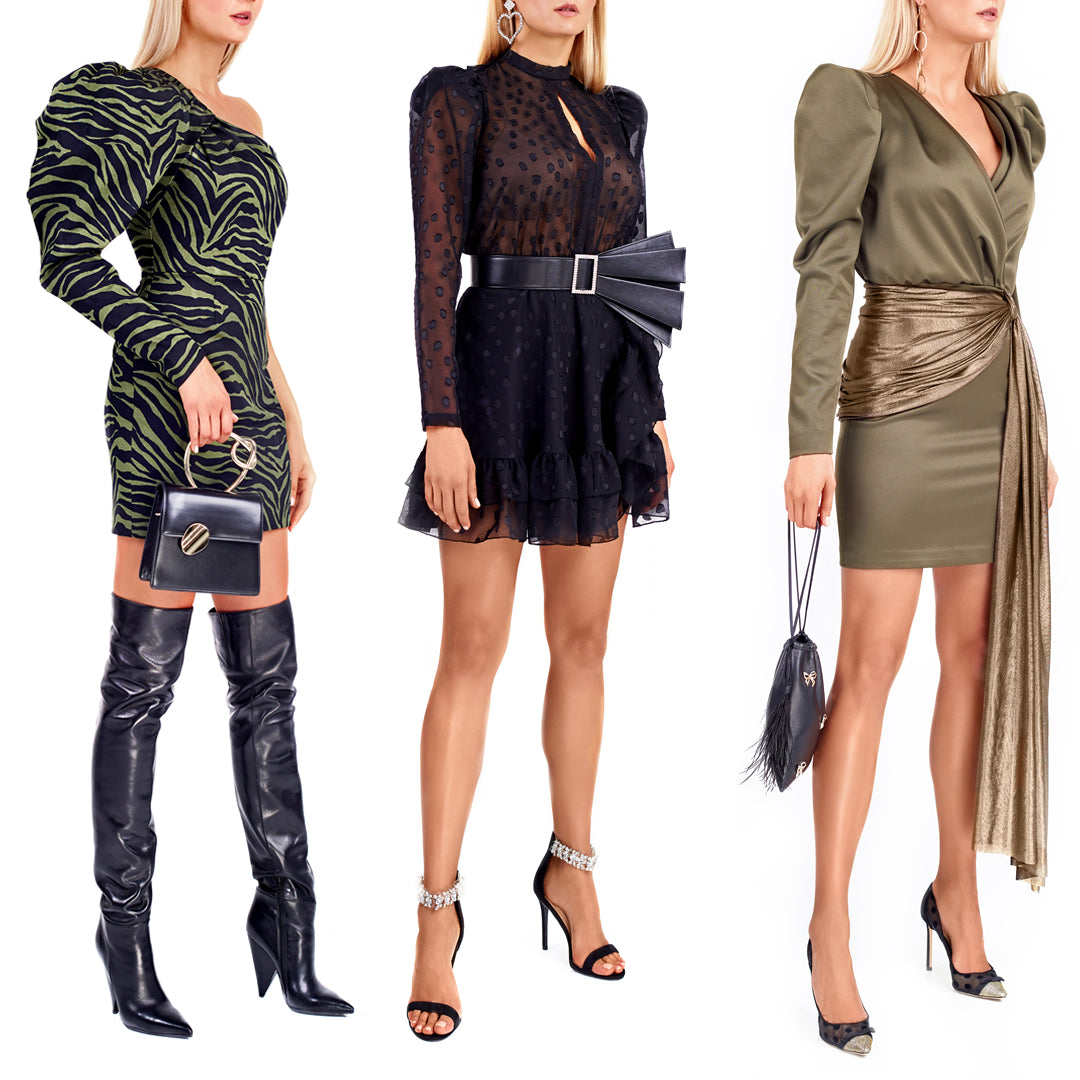 We have selected several latest party dress options for those who are not exchanged for everyday life and appreciate individuality:
A fitted dress made of shiny satin with an elongated belt of bronze knitwear will suit girls who like pastel shades, know how to correctly emphasize a tan after a vacation, and are not afraid to be different from others.

A short wedding party dress in combination with a long belt will make your legs even slimmer, especially if the shoes are picked up with an open cape or the choice falls on sandals.

Sleeves-flounces and a V-neckline effectively frame the neck, so the hairstyle with matched hair or curls pinned to the side will look especially feminine with the dress. In this outfit, it is easy to be in the center of male attention. The groom may have a handsome brother or friend, which means the wedding will be memorable!


A dress in a small floral print with pleats and sleeves framed by flounces will appeal to girls who want to show off their chiseled legs at the wedding party. The short length of the fitted dress harmoniously combines with a very closed top.

The unusual design emphasizes the waist and beautiful posture of the owner of the outfit. In combination with boats, dark tights, and a classic Chesterfield coat, the outfit will look even more spectacular and feminine.

The dress is quite closed, so it is suitable for weddings in winter and autumn, but short enough to be relevant in spring and summer. Therefore, the purchase is definitely worth it!


Carmen dress in the style of the Spanish fatal beauty will make a splash, even at someone else's wedding. A train with an asymmetric cut visually lengthens the legs and adds solemnity along with it.

Peas on translucent chiffon look playful but leave room for imagination. A belt with an emphasis on a thin waist and flounce sleeves adds fragility and elegance, and a closed collar harmoniously contrasts with the entire bold design of the dress.

The wedding party outfit is suitable for girls who do not miss fun dancing, are the true soul of any event and enjoy what is in the center of attention. After all, you deserve it!


For a party look at a wedding, it is not obligatory to choose only dresses. Thanks to modern trends, an outfit can be one part of the wardrobe that is truly solemn and that will be enough.

A wedding party blouse in today's popular Victorian style with ties, puffed sleeves, and oversize size is a non-trivial alternative to holiday dresses. A blouse made of translucent chiffon with a combination of two textures creates the effect of a naked body without too much frankness.

Combined with a short mini skirt, it will look even more spectacular. Here you can play around with textures and choose a patent leather skirt. It's worth picking up sandals on a stiletto heel, and in the end, choose actual volumetric earrings falling on your shoulders.

Black color has always been considered a win-win option for various celebrations and this outfit is yet another proof of this.


Bow skirt is another full-fledged wardrobe item that can make you a star at a wedding party, after the bride of course. The main emphasis on the skirt in the form of a large bow takes all the attention into itself and thus stretches the silhouette.

Thanks to the spectacular design, such a skirt does not need complicated wardrobe elements. A succinct blouse is enough, a tight-fitting top without unnecessary details and, for example, a shortened jacket.

Shoes in addition to the image should be concise with interesting, but not catchy details, such as stones, extra buckles or satin finish.
A wedding for invited girls is, first of all, a place of acquaintances, meeting with friends and having a good time with loved ones. In this case, all that is missing is a dazzling dress outfit that will decorate this event with hundreds of compliments addressed to you!